Siegfried A. Fruhauf
*1976 in Grieskirchen, lives and works in Vienna and Heiligenberg

Since 1993 experiments with video and later also with film. Studies of experimental visual design at the Kunstuniversität Linz, Austria. Member of the avant-garde film distribution company sixpackfilm in Vienna and the artist's organization Maerz in Linz, Austria. 2002 Chancellor's award for cinema art. Participation in many international film festivals, including the Festival de Cannes, Int. Film Festival Venice, and Sundance Film Festival Park City.

www.filmvideo.at/filmdb_persons.php?persid=2913


THINKING ABOUT MOVIE MAKING
1998 – 2008, 2 x DVD-Video (Loop), 3 laser print abrasion copies on wood (each 40 x 30 cm),
burned note of a film idea (ca. 15 x 10 cm)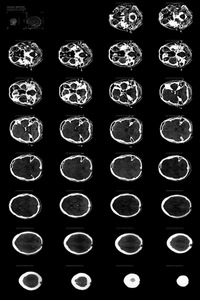 Filmisches Denken bedeutet die Welt zu zerlegen, sie in 24 Bilder pro Sekunde zu zerstückeln. Dieses Auseinandernehmen, diese Aufsplitterung von Vorgängen entspringt einer wissenschaftlichen Praxis und dem Wunsch nach objektiver Erforschbarkeit. Für "Thinking about Movie Making" wird mein Gehirn – das eines experimentellen Filmemachers – einer computertomografischen Inspektion unterzogen. Die Einzelbilder dieser Untersuchung werden zu einer Fahrt durch den Kopf animiert. So entsteht eine Ästhetisierung jenes Organs, in dem sich der abstrakte Prozess des Denkens abspielt. Dem Gedachten Ausdruck zu verleihen, den im Kopf isolierten Gedanken zu kommunizieren ist der künstlerischen Tätigkeit immanent. Die Ästhetisierung erlaubt den Zugang zu einem undurchdringlichen und im besten Fall tiefgründigen Treiben. Natürlich lebt man mit der Angst, dass man einen guten Gedanken wieder verliert, ihn einfach vergisst. Film ist ein Medium der Erinnerung. Dem Vergessen wird durch die Reproduktion auf der Leinwand Einhalt geboten. Doch die Erinnerung braucht eine Apparatur. Ohne die Erhellung der einzelnen Filmbilder durch den Projektor bleibt alles nur ein Gedanke und die Filmrolle bleibt in der Dose.

Cinematic thought means to separate the world, to break it into 24 images per second. This taking apart, this splitting up of incidents stems from a scientific practice and the desire for objective research. For "Thinking about Movie Making" my brain – that of an experimental filmmaker – will undergo a computertomographic inspection. The individual images of this investigation will be animated into a voyage through the head. In this way, an aestheticization
of the very organ in which abstract thought processes take place is created. It is immanent to artistic work to express thoughts and to communicate what is isolated in the mind. This aestheticization enables acess to an impenetrable and at best profound drive. Certainly one lives with the fear of losing a good thought, of simply forgetting it. Film is a medium of remembering. Forgetting will be arrested through the reproduction on the screen. But remembering needs equipment. Without the illumination of the separate film images through the projector everything remains thought and the film reel remains in the can.